by Danny Dowhal,
Director,
Imagineering & New Media
The Learning Edge Corp.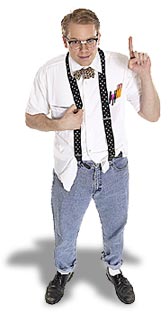 There's a running gag on the infobahn that there are three types of participants in the web development process — the pony tail, the propeller head, and the suit (i.e. artists, techies, and marketeers).
The point is that the creation of an effective and efficient website is a collaborative effort between graphic designers, who address the look and feel of the site, developers, who create its functionality and interactivity, and those responsible for making sure the website meets the business needs of the owners. While in some cases a single multi-talented individual can perform a variety of roles, in large projects this division of responsibilities reflects an interfacing between entire teams, or even different companies.
All too often in the development process key decisions that will ultimately affect the success of a website, as well as the time and expense involved in building it, are left in the hands of designers who produce the initial design mock-ups on purely aesthetic grounds. Developers are then brought in afterward to realize the concept and may find themselves faced with the unenviable task of mutilating the original artistic vision in order to conform to the reality of technology or the development budget.
Now don't get me wrong. I am a strong proponent of good design, and I've worked with a number of talented designers who possess the experience, training, or natural acumen to make sure that a site is as usable and utilitarian as it is beautiful. But all too often I've seen a natural schism appear between the left-brain and right-brain crews as they try to understand and adapt to one another's working worlds.
The moral of the story isn't simply that "what we have here is a failure to communicate." Eye candy on the web doesn't carry the same kind of clout it once did, and today much of what makes a website cool is what the website actually does. The versatility of a dynamic, open-ended, database-driven system, or the elegance of a built-in intelligent agent, for example, aren't mutually exclusive of good design ... provided designers understand the technical parameters up front.
In fact, developers often have unique knowledge or valuable perspective that can and should influence the visual design. So designers should consider including techies in the brainstorming and idea conceiving stages of design ... they may be surprised by the gifts these geeks can proffer.