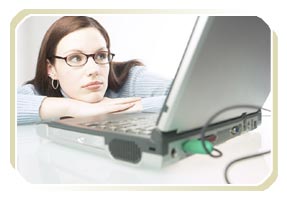 by Danny Dowhal
One of the most notable trends on the web is an increased focus on interactivity. Research studies have time and again confirmed the obvious — that users who are actively engaged by their content stay longer, visit more often, and remember their experience more vividly.
Interactivity, however, means more than simply having a user select menu items or click "Next" buttons to page through static content. Interactive scenarios can include animated games where players solve problems, or exploratory virtual environments that can be customized for each user, providing a unique, targeted, immersive online experience.
The dominant technology for advanced interactivity on the web is currently Macromedia Flash, (or, more precisely, the Shockwave executable Flash creates, which is what is actually downloaded to your browser.) Flash originally came into its own as a top-notch animation tool that, because it was vector-based instead of using bitmaps like animated GIFs, could deliver high-quality large-sized animation with minimal download times. Today, this same compactness makes Flash a hot contender for delivering content to the emerging handheld/cellular market.
---
Interactivity means more than clicking "Next" buttons to page through static content
---
Flash/Shockwave has also evolved into one of the web's leading multimedia delivery platforms, with built-in stereophonic MP3 sound, and compressed streaming video that Macromedia is currently promoting heavily as an alternative to the internet's three venerable video formats — Windows Media, Apple QuickTime, and Real Media.
Now all this in itself would be enough to make you want to stand up and shout the praises of Flash, but under the hood Flash also comes with its own sophisticated programming language, ActionScript, which allows advanced functionality on web pages. This includes the ability to connect to databases in real time, achieved through built-in Flash support for XML (the eXtensible Mark-up Language), one of the Internet's standards for data interchange.
And, if this wasn't enough, the Shockwave format has also been published and opened up for use by other programs and in more advanced solutions. For example, Shockwave files can be dynamically generated in real time by other computer programs, such as Java servlets, allowing the creation of engaging interactive content on the fly, without the need to have a Flash programmer author the files each time.
This is not to say that Flash doesn't have its problems or its critics, especially when it comes to bloated downloads, accessibility by the handicapped, searching of content by webcrawlers, or the ability to go to specific points within a Flash movie. But ultimately these are all issues with the designers and developers more than the technology itself.
When it comes down to it, Flash's pluses far outweigh the minuses, although there's a time and place for everything, including when not to use Flash. There's even a term out there for those that use Flash wantonly for its own sake, even when not warranted: flashhappy. Still, with its ability to deliver animation, rich media, and powerful, engaging interactivity, Flash is one cool tool that we have no qualms using or endorsing.


Danny Dowhal is the Learning Edge's
Director of New Media and Imagineering.
He has been a Macromedia Flash user
since Release 2 in the mid-90's.


Want to find out whether Flash is the right tool for you?

Call us at 416.248.0667 or email us, and we'll gladly meet with you, at no charge or obligation, to discuss Flash and other web technologies, and how the learning edge can be of service.