Toronto
5-September-2005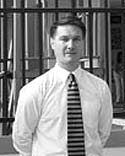 Mr. Barry Sutherland

The Learning Edge Corporation of Toronto, Canada has announced that Laura DiCesare and Barry Sutherland have joined its Board of Directors.

Mr. Sutherland is currently the CEO of the Moshi International School in Tanzania, and brings with him extensive experience as a teacher, headmaster, and senior educational administrator. The Moshi school has campuses in Kilamanjaro and Arusha, with between 230 and 270 students on each campus from 45 different nationalities

Prior to taking the position in Tanzania, Mr. Sutherland was headmaster at the American Pacific International School in Chiangmai, Thailand. where he helped launch the new facility from its inception. He holds B.A. and M.A. degrees in English and Communications from the University of Waterloo, and a B.Ed. degree from the University of Toronto.

Ms. Laura DiCesare

Laura DiCesare has been with the Learning Edge for the past five years, and currently serves at the firm's Development Coordinator. In addition to her key role as a developer and manager on major accounts, Ms. DiCesare has been a producer and key facilitator on several of the Learning Edge's recent independent productions, where her practical line experience has been combined with higher-level planning and logistical skills.

Ms. DiCesare holds a B.Sc. in Chemistry from York University, and is also a graduate of Seneca College's Postgraduate Webmaster Program.

"We are profoundly excited by these new additions," says Danny Dowhal, Chairman of the Board of The Learning Edge Corp., "Their sage perspectives and unique voices will be an invaluable catalyst in helping us crystallize our strategic visions and accomplish the goals of the company."

Want more information? Click here.