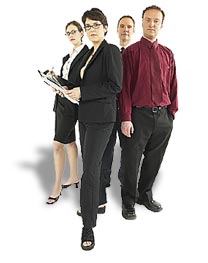 The Learning Edge Corporation is an independent, experienced interactive digital media firm specializing in eContent solutions for corporate and institutional clients.

Since our start in 1991, we've established a reputation for technical versatility and for bringing emerging technologies to the business mainstream.

Most importantly, with a highly-experienced management team at the helm, we've established a track record for understanding our clients' needs, and for getting things done on time and on budget.

Much of The Learning Edge's success has been due to the multi-disciplinary nature of our core staff, who are able to address not only the technical aspects of a project, but the creative and cognitive dimensions as well.

We also have a network of experienced web designers, artists, animators, programmers, teachers, audio engineers, photographers, and videographers to draw on for specialized activities and contracted development.