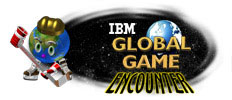 Located in the heart of the hockey Hall of Fame's World of Hockey Zone, the IBM Global Game Encounter is a unique multimedia exhibit that combines in-depth intranet kiosks with a large-screen theatrical presentation.

Users can surf through the largest collection of international hockey data in the universe, with information about the 60-odd members of the International Ice Hockey Federation (IIHF), Olympics and World Championships results since 1920, the IIHF Honour Roll, and coverage of contemporary and classic tournaments.

The exhibit tracks the users' areas of interest, and on the big-screen presents hundreds of multimedia clips comprising text, images, and video, that matches these interests. The exhibit is hosted by Cosmo, a 3D-animated hockey-playing globe, who serves as both host and guide to the contents.

Among a major upgrade to the exhibit done in 2005, was the creation of a back-of-house administrative system to help maintain the vast repository of data in the World of Hockey's DB2 database via user-friendly web-based forms.