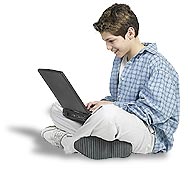 We are firm believers in the principle of EduTainment (the marriage of Education and Entertainment). Maybe we should call it Edge-utainment.
Kids and adults alike learn better if the course material engages them and keeps them interested. That's why, when it comes to content, we focus as much on excitement, humor, and aesthetics as we do on accuracy, completeness, interactivity, and performance.
EduTainment starts with quality writing and a creative spark. Then we can integrate courseware with stereophonic sound, text and hypertext, 2D and 3D computer-generated graphics, digitized images, full-motion video and animation, and sophisticated computer interaction to produce effective, efficient, and exciting learning solutions.